October 31st: Leadership Blythewood
---
This event is open to the public!  Invite friends, family, and co-workers!  And because this is such an important topic, we are making the cost the same for everyone, whether you are a chamber member or not!
How to Increase the Creativity in Your Business and Life
Presented by:
Tim Floyd: President, Tim Floyd Creative, Storybrand Certified Guide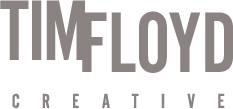 Maintaining creativity in your business and your life keeps the boredom at bay.  The last thing you want to do is be predictable and hum-drum.  In this presentation, Tim will share eleven fascinating examples of thinking creatively that will help you and your business move to the next level of success, here are just a few:
When all else fails, mail a flip flop.
Be anonymous, it's more fun to be a fly on the wall.
Set aside an hour for a lunch meeting, then make your point in 45 seconds.
How to get 502 customers with a golf ball and a $200 van.
How to make a swimming pool on asphalt in just 23 minutes.
Dollar tipping. Make a server's day.
Tim Floyd is one part artist, one part designer, two parts entrepreneur, three parts creative, mixed with a bit of hunger for travel and lake life. After spending the past 25 years as the creative director at Palmetto Health, Tim struck out on his own. His company, Tim Floyd Creative, is helping businesses with clear messaging and design. He enjoys problem-solving for those that want to think differently and he seeks to provide creative solutions. He is also a certified StoryBrand Guide, teaching a framework and marketing system that invites your customers INTO your story.  His life theme is to Embrace Life: The good, the bad, and the in-between.
Please click here to register.  Leadership Blythewood is a semi-annual Lunch-n-Learn event designed to bring topics and speakers that will enhance your business life.  This workshop includes a delicious lunch from Prince House of Pizza and Mediterranean Restaurant in Blythewood.  Please note that chamber membership is not required so feel free to circulate to family, friends, and anybody you think would enjoy this event.